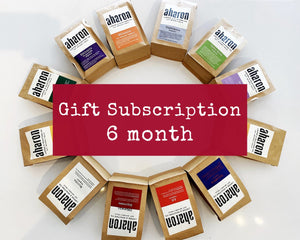 Know someone who LOVES coffee? Congratulations, you have found the PERFECT gift!
Want to really make someone filled with JOY? Gift them Aharon Coffee.
Our formula is simple: We curate the coffee, choosing the bag of coffee that Aharon himself is currently obsessing over, and we ship it off!
This gifted deliciousness will last 6 months. Any additional notes (for example, will this person prefer coffee beans that do well as an espresso shot? Or for their morning cup of Joy?) - leave it in the comments at checkout or feel free to email us at any time. We LOVE to create the perfect coffee experience for our customers.
Each bag contains 12oz organic, small-batch roasted coffee.