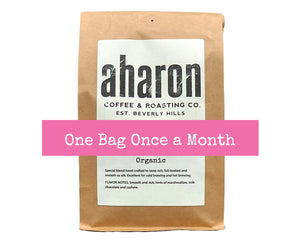 Ok, so you go through your coffee a bit slowly. At least you choose the BEST coffee out there! With this subscription, you get a new bag of Aharon Coffee beans each month - hooray!
Select 'Roaster's Choice' if you would like to try whatever coffee we are currently obsessing over, or our world-famous Bravo - three origins curated and blended by Aharon for the perfect espresso shot, or our incredibly delicious AM House Blend which is guaranteed to hit the spot every single time.
Whole bean or ground for drip, you choose.
After clicking 'subscribe' you will be prompted to leave us comments - please feel free to write whatever is important to you regarding your ideal cup of coffee, so we can be sure to share with you the very best beans and the best possible experience.
Get ready for delicious!