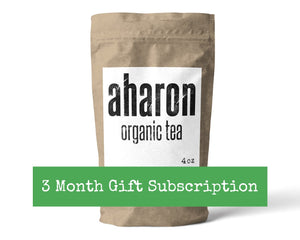 Do you know someone who loves tea? Gift him or her the highest quality, most flavorful and exquisite organic tea around - Aharon Tea.

Our formula is simple: We curate each Tea of the Month, choosing a different tea each month from the same exquisite teas that we serve and sip in our Beverly Hills flagship store.

All you have to do is pick a duration for this amazing gift to last: 3, 6 or 12 months.

Any additional notes (for example, should the teas ONLY be herbal? Never caffeinated?) - leave it in the comments at checkout or feel free to email us at any time. We are thrilled to be able to create the perfect teatime experience for each customer.

Each bag contains 4oz organic, responsibly-sourced loose leaf Aharon Tea, enough for about 60 cups of tea.